Shipping Information
You receive regular USPS shipping to as many people you send bracelets to included with every order. You may upgrade to Priority for a small charge of $3.00 per person (not per bracelet). You may upgrade only one recipient, or more on an individual basis all on the same order. See our easy order form for more information, shipping is contained under step 2.
All orders currently ship from Nevada zip code 89141. Shipping times will vary based on exact location, and typically run 3-5 business days across the United States.
Please Note: Shipping times above are NOT GUARANTEED, and all shipping times may vary due to holidays or unseen weather or events.
Priority Shipping
If you would like faster shipping, please upgrade to USPS Priority Shipping. Priority shipping runs 2-3 days across the entire country.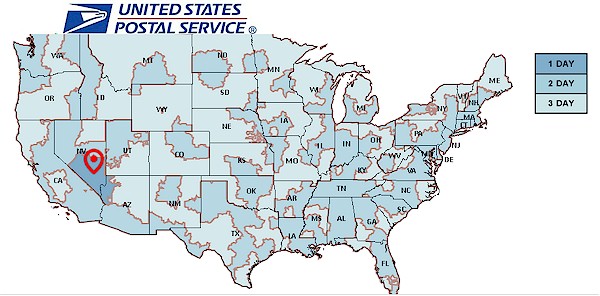 If the recipient is east of the Mississippi, we strongly suggest priority mail for the most reasonable shipping times. Each recipient on your order can be individually upgraded to priority shipping on step 2 of the order form below the recipient name and address. Simply choose Priority shipping from the drop down list. A small fee to cover the increased cost of postage will be added to that part of your order only. The charge is a one time charge for that shipment, not for each bracelet in that shipment and your total will be clearly displayed in your shopping cart page.
International Shipping
International shipping is available! Simply choose International shipping during step 2 on the order form. Once again, this option is specific to the recipient and you may add many recipients to your order some with international shipping, some without.
International Shipping Times
Shipping outside the USA typically takes 5-10 business days but may take slightly longer depending on exact location.